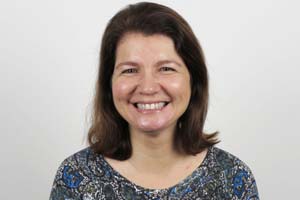 Gloria Franco holds a bachelor's in Biology (1988) from Universidade Federal de Minas Gerais (UFMG), and a MSc. (1992) and Ph.D. (1996) degrees in Biochemistry and Immunology from the same University. Since her Ph.D. she has been working with sequencing and annotation of genomes and transcriptomes of protozoan and worm parasites and bacteria. In 2014 she was a Visiting Professor at the Garvan Institute of Medical Research, Australia, working with non-coding RNAs involved in neuronal plasticity and disease. She is currently Full Professor at the Department of Biochemistry and Immunology/UFMG and Coordinator of the Postgraduate Program in Bioinformatics at UFMG. She is a founding member of the Brazilian Association of Bioinformatics and Computational Biology (AB3C) and its previous President. She has experience in Biochemistry, Molecular Biology and Bioinformatics, working mainly with genomics, transcriptomics and proteomics of prokaryotes and eukaryotes. She has also a great interest in teaching Bioinformatics and Genomics for undergraduate and graduate students.
Transcriptome dynamics of infected mice tissues: How different lineages of the same pathogen modulate host differential gene expression and RNA splicing.
The protozoan Trypanosoma cruzi is a well-adapted parasite to mammal hosts, causing the Chagas disease in humans. Both, humans and T. cruzi are highly genetically diverse and, therefore, many variables come into play during infection, making the disease outcome difficult to predict. One of the challenges, for instance, is to determine the main factors leading to the establishment of the parasite in some organs in the chronic stage, mainly heart and digestive system. To investigate changes in the host transcriptome triggered by two distinct T. cruzi strains, we have assessed the gene expression profile of infected mice hearts during the acute phase of infection. We demonstrated a clear distinction in the modulation of host gene expression by the two strains, either by activating a strong immune response, or by modulating host energy generation and impairing protein synthesis. We also interrogated whether the alternative splicing of host transcripts may play a role in the differential response to the pathogen, since it is an important regulatory mechanism of gene expression and is a source of cell-specific proteomic variation in mammalians. Our data suggest that alternative splicing events are differentially regulated during T. cruzi infection with both strains and reveal a potential mechanism for modulation of gene expression involving the coupling of alternative splicing to nonsense mediated decay.