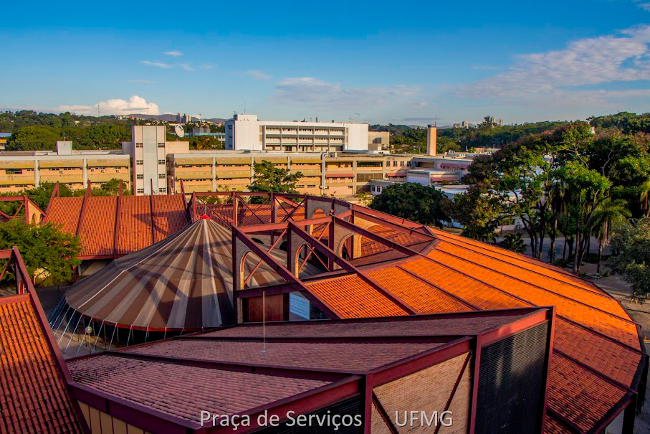 Restaurants at UFMG
1. CDTN
There is a good self service restaurant (R$27,50 per kilogram or less than USD10) inside the CDTN area opened to the X-Meeting public from 12:30 to 14:00. It is the nearest from the convention center. It is highly recommended that participants have lunch at this restaurant to avoid moving outside CDTN.
2. University Restaurant
UFMG has two University Restaurants at the Pampulha campus. The closest one to the conference venue is RU Setorial I, which is only a 5 minute walk from the main auditorium. Visitors are charged R$8.50 (approximately USD2.50) per meal. The restaurant menu is updated online daily and is available here.
3. Closest Restaurant
The closest restaurant from the conference venue is the Biological Sciences Institute restaurant (ICB), located under Bloco B. The restaurant works as a buffet where you can choose what you eat and are charged by the final weight of your meal. An average meal weights 500g and one kilogram costs R$29 (approximately USD8). The restaurant also offers ready meals for less than R$10 (approximately USD3).
4. Service Plaza Restaurants
UFMG has a service square located within a 5 minute walk from the main conference venue. There you will find two restaurants, a copy shop, a drug store and bank agencies. Both restaurants are located in the same building and work on a weight-based system. The ground floor restaurant charges R$32 (approximately USD9) per kilogram and the first floor restaurant offers a more elaborated buffet and charges R$44 per kilogram (approximately USD12).
Restaurants near UFMG
Rua Noraldino de Lima, 581 (3443-6299). This restaurant serves lunch and dinner with typical food from Minas Gerais. It works on a weight-based system and offers very good meat for churrasco lovers!
Av. Abraão Caran, 960 (3441-4422). This is a small chain of restaurants specialized in Brazilian churrasco. They also have a buffet that works on a weight-based system. It is within a <30 minute walk distance from the conference venue.
3. Soccer Stadium
The Mineirão Soccer stadium offers a few choices for lunch. Spoleto offers a choice of 30 authentic Italian-inspired toppings gives everyone a chance to create meals that inspire their palate. Guests can craft their own pasta dish. You may also take this chance to visit the soccer stadium! Click here for details. The stadium is also within a <30-minutes walk from the University.
Rua Guajajaras, 295 (3222-1867)
The shopping mall offers a wide range of choices for lunch and dinner. Check the website for details. The 5102 bus can take you from the Conference Center to the shopping mall.
5. McDonald's and Subway
Fast-food options near UFMG and with free transportation by the University bus. Ask for the bus schedule and specific directions at the secretary desk. The bus will take you to Bairro Ouro Preto, in which you will also find other options for lunch.
-- The X-Meeting 2016 has no partnership with any of the above mentioned restaurants and will not be responsible for your interaction with these establishments.